---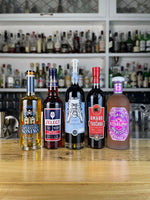 Intermediate Class: Amari & How to Mix with Them · Sat Nov 4, 2023
THE GREY TIGER SCHOOL OF HARD DRINKS:
INTERMEDIATE CLASS: AMARI & HOW TO MIX WITH THEM

PLEASE NOTE:
This is an intermediate class designed for home bartenders who already possess a basic, practical understanding of how to balance ingredients in cocktails, as well as the basic techniques (measuring, shaking and stirring) of cocktail-mixing. If you do not have the basics covered, we recommend that you complete our Cocktail Basics class before enrolling in this intermediate class.
THE CLASS:
In this intermediate class, we'll take a deep dive into the world of amari and other bittersweet liqueurs (aka potable bitters), and you'll learn how to create balanced bittersweet cocktails like a pro!  This is a great chance to learn how to create your own bittersweet aperitivi (including how to make ingredient substitutions when mixing drinks like the Negroni), improve your product knowledge, and become a more confident, creative, discerning drinker. We strive to provide a safe, unpretentious, engaging learning experience focused on personal empowerment, community, and fun.
INCLUDES:
· 1.5–2 hours of class time
· An amari tasting flight (featuring a thoughtful selection of common and hard-to-find products; not necessarily the ones depicted here) + 3 cocktails that we mix together
· Light snacks
WHERE:
Grey Tiger
1190 Bloor St W
Toronto
WHEN:
Saturday, November 4, 2023
4:00pm
PLEASE NOTE:
Tuition is 98.00 + HST per person. The maximum class size is 7 people.
This class is non-refundable. Please review our cancellation policy before committing to this class.